Repair work on damaged Boscombe surf reef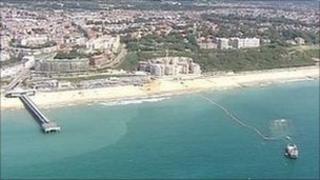 Repair work will be carried out on an artificial surf reef off Dorset next month after two sand bags were damaged by a boat propeller.
The £3.2m underwater reef in Boscombe was closed in March after an inspection found changes to its shape.
Divers have repaired one of the bags while the other, which had become detached, will be repaired in August.
The reef remains shut while current flows, thought to have been altered due to the damage, are monitored.
ASR Ltd, the firm which built the reef, is due to carry out further refinement work and improvements in August.
'Urgent protection'
The reef was created to enhance waves using 55 giant sand-filled bags, which are 740ft (225m) out at sea.
The damaged bag was removed and passed to Bournemouth Borough Council insurers.
Councillor Rod Cooper said: "The decision to use the retained funds to undertake these repair works represents the most practical way of ensuring the immediate and urgent protection for the future of the reef.
"The contribution the reef has made to the reputation of Boscombe as a destination cannot be underestimated."
He urged boat users to observe the cardinal mark and other buoys marking the reef.
Nick Behunin, of ASR Ltd, said: "We are pleased to have reached an agreement on the repair works for the Boscombe reef and that we will be able to start the improvement works at the same time."
The reef opened in November 2009 after lengthy delays and running over budget, as part of the regeneration of Boscombe seafront.
It has been criticised for not working properly but many traders have argued it has added to the regeneration of the once-rundown area.
The council has withheld £150,000 from New Zealand-based ASR Ltd after a specialist report found the reef had not achieved all of its objectives.
It will pay £55,000 when refinement work is finished and a further £95,000 if the improvements are successful.
ASR Ltd has denied the reef failed and said it was only one of the criteria, the wave lengths, where it had not met the requirements.