Dorset buzzard webcams are a 'UK first'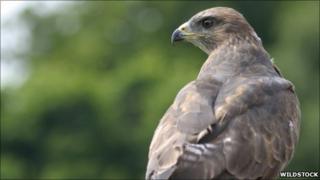 Nesting buzzards are being filmed on webcams for the first time in the UK, according to the Dorset Wildlife Trust.
The "raptorcams" have been installed by the trust on private land near Buckland Newton in Dorset overlooking a natural tree nest.
The cameras allow internet users to watch Kate and Wills - named after the royal couple - rear a single egg.
The egg is expected to hatch in the next few weeks. Internet users can watch via the trust's website.
'Tree climbing'
Nicky Hoar, communications officer at Dorset Wildlife Trust, said: "It's so difficult to film a buzzard nest. It took months of planning - starting before Christmas 2010 - and lots of tree climbing.
"Although quite common now, buzzards don't necessarily use the same nest site every year and usually have several nest sites to choose from."
Barn owls returned to a Dorset Wildlife Trust "raptorcam" nest box at Lorton Meadows Nature Reserve, Weymouth in April. The pair, Bob and Brenda, currently have four out of six eggs hatched.
Two tawny owls, named Twit and Twoo by the charity, also took up residence in another box at the reserve with a webcam. Their brood of three recently left the nest for surrounding trees.