Illegal River Erme fish catch nets charity £800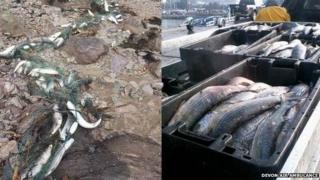 Proceeds of an illegal catch of mullet, seized from a net in the River Erme in Devon, are helping a local charity.
The net was spotted by two Royal Marines who contacted the authorities in March.
The mullet made almost £800 which has been donated to the Devon Air Ambulance (DAA) by Devon and Severn Inshore Fisheries and Conservation Authority.
The authority said the netting contravened its estuary byelaws and the fish and netting were seized.
Helena Holt, of the DAA, said: "We would like to thank everyone concerned for their support of the charity, which is very much appreciated."