Nearly 30 Devon roads closed as unfit for motorists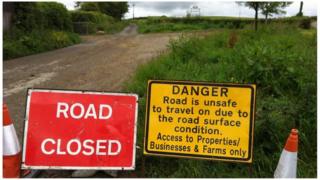 Twenty-seven roads across Devon have been closed because they are not fit for motorists.
Some have subsided, some are too potholed while others are affected by bridge collapses and damaged culverts.
In Hollacombe, one of the four routes into the village has been shut for more than a year.
Devon County Council said it was carrying out £7m worth of repairs and was "bidding for a share of the £168m pothole grant" to fund more work.
Richard Reader, who runs a caravan site in Hollacombe, said three other roads in the area were blighted by potholes.
'Stressed out'
"It affects our business, people arrive stressed out because of the potholes. It can't go on like this," he said.
"We have to have some good roads getting in and out of the village."
The council said the cost of re-opening the road at Hollacombe would be £50,000 and spending was being directed at areas "where it can have most impact".
Councillor Stuart Hughes, cabinet member for highway management, said: "The schemes which have been identified will cost effectively repair and protect parts of our network
"£7m will go some way towards covering the cost of some of the damage to Devon's roads, but due to the size of our highway network it certainly won't fund the repair of everything that was damaged over the winter.
"We submitted a bid last month for a share of the £168m pothole grant and hopefully we will receive a fair share of this money which will enable the county council to continue with the recovery effort."