Witness describes River Exe baby rescue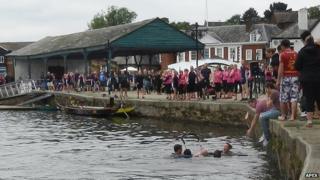 An eyewitness who saw a baby in a pram roll into the River Exe during a dragon boat race in Devon on Sunday said the incident made her feel sick.
The baby's mother and three bystanders immediately jumped into the water and pulled the child to safety.
Debbie Manning was photographing her dragon boat team at the time and caught the incident on camera.
Emergency services were called but did not attend because first aiders were on the scene.
'Horrible to watch'
Ms Manning said: "I just happened to be taking photos of my own people when I happened to see about 20 feet away from me the pushchair going towards the water. I saw the mother scream, reach out for the pushchair, she just missed it and everything went straight into the water.
"There were three blokes very, very close and they just jumped straight in. They jumped off the side of the quay. The mother jumped in.
"Just as it was breaking the surface, as I was taking the photograph, I could see the baby's head and we knew she was okay. It was probably only a few seconds."
Ms Manning said the incident was "horrible to watch".
"It actually made me feel very sick. It was the sort of thing you don't want to see happen."