Sharon Bridgman: Globe-trotting cyclist killed in South America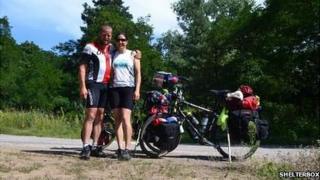 A British woman has died in South America while on a globe-trotting cycle trip.
Sharon Bridgman, 38, from Devon, died after she was hit by a van while travelling through Bolivia with her husband Tim.
The couple, from Zeal Monachorum, near Okehampton, had been cycling from Norway since June 2012 and had visited Europe and Africa.
The Foreign and Commonwealth Office said it was aware of a British national death in Bolivia on 26 April.
Driver arrested
Robert Szembek, the chairman of Okehampton Cycling Club, of which the couple were members, said they had been on what was meant to be a "a great adventure".
"It is not what you expect to hear, especially when they went right through Africa," he said.
"Seeing many of their photos, it is just the two of them and not much traffic at all."
Mr Szembek said he was told that the Bridgmans may have been cycling with another couple when the incident happened.
He said Mrs Bridgman was cycling a short distance either ahead or behind the others when she was hit by the vehicle.
He said he was told the driver of the vehicle had been arrested.
Mrs Bridgman's family said in a statement: "We are extremely proud of Sharon and understood the risks she was taking but this was something she very much wanted to do.
"We are impressed with their dedication and determination to carry out this immense challenge and it remains a remarkable achievement.
"For now our thoughts and prayers are with her husband Tim."
'Deeply shocked'
Police in Bolivia told the Associated Press that Mrs Bridgman was involved in an accident near Bolivia's border with Chile.
According to the couple's blog, which she wrote, they were on a "North 2 North Cycle Tour" through 32 countries, starting in Norway in 2012, heading to South Africa, then to South America and north to Alaska.
In their last blogpost on 22 April, they wrote about their adventures in Chile, including being in the capital, Santiago, while there were mild earth tremors.
The couple were hoping to raise more than £10,000 for the Cornwall-based disaster aid charity ShelterBox.
Alison Wallace, the charity's chief executive, said: "Everyone at ShelterBox is deeply shocked and saddened to hear of Sharon Bridgman's death.
"The Bridgmans' cycle journey showed their immense determination, enterprise and generosity of spirit.
"We are very proud and grateful that they chose ShelterBox to benefit from their latest fundraising adventure, and it is beyond sadness that it has ended in such tragedy.
"Our hearts go out to Tim and to all Sharon's family and friends at this desperately sad time."