Devon teenagers turn out to protest youth service cuts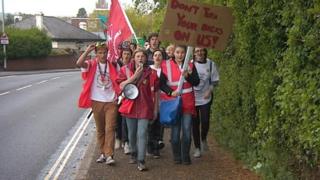 About 60 young people, parents and teachers took part in a protest march against planned youth service cuts in Devon.
Devon County Council plans to cut £1.7m from the youth service, which will mean 60 out of 114 youth service jobs will go.
The march was to the County Hall in Exeter where a petition containing more than 7,000 signatures was handed over.
Organiser Alfie Weaver said the service was vital.
He said: "It is incredibly important this service is maintained. The protest has shown the amount of support and need there is for the youth service. It is a massively used service and is depended on by vulnerable young people."
Paige Wonnacott was one of the young protesters and said the youth service saved her.
"It means everything, in the last few years of my life I have been through a lot and the youth service has been the only people that have supported me and didn't abandon me when I was at my worst," she said.
The council said in a statement: 'We are in consultation until the 27 April, and no decisions have been made.
"We are continuing to invite people to come forward with fresh ideas for services they could provide, possibly using our premises, for which some limited support from the county council may be available."