Man jailed for knife robbery at cash machine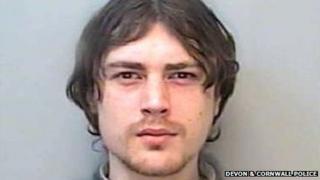 A man has been jailed for a knife robbery at a cash machine which left an 18-year-old girl too frightened to go out at night.
Paul Ward, 26, of Sticklepath, Barnstaple, walked four miles to wait by the machine.
Victim Chloe Gregory was taking out £100 to give to her mother when Ward appeared with a knife.
He admitted robbery and possession of a bladed article and was jailed for two-and-a-half years at Exeter Crown Court.
Ward was caught after CCTV footage showed the shocked teenager being confronted by a man whose face was covered by a scarf and partially hidden by a blue hooded top.
Gordon Richings, prosecuting, said Miss Gregory was out with friends in South Molton in January when her mother texted her and asked her to withdraw some money for her.
Miss Gregory sobbed in the public gallery as Mr Richings read out her account of the robbery.
'Please don't hurt me'
She told the police: "I felt a tap on my shoulder. I turned around and he told me to take out £100.
"I looked down and saw he was holding a knife in his right hand by his jeans pointing at the floor. I said 'please don't hurt me and he replied 'I won't'.
"I just feel scared. I don't feel I can go out on my own at night any more. I am scared of seeing him again. I feel very upset."
Sean Brunton, defending, said the offence was an aberration which arose from Ward's unsettled lifestyle which started when he failed his GCSEs.
He said: "He has genuine remorse and wishes to apologise for what he did."
Judge Phillip Wassall told Ward: "One can only imagine the effect on an 18-year-old girl on her own at night using an ATM and being robbed. It is not surprising she cannot go out on her own and is scared at night."