Duke of York opens £23m Devonport recovery centre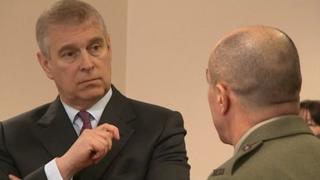 The Duke of York has opened a £23m recovery centre for wounded, injured and sick military personnel and their families.
The centre at Devonport Naval Base in Plymouth incorporates a gym, hydrotherapy pool and swimming pool.
Prince Andrew visited the new accommodation block, which is currently home to 55 injured servicemen.
The Naval Service Recovery Centre (NSRC) is the first in the region and is funded by Help for Heroes.
The centre is made up of two buildings Parker VC, which is a specialist accommodation building, and Endeavour, a rehabilitation centre.
Bryn Parry OBE, the co-founder of Help for Heroes, said: "The Naval Service Recovery Centre will play a vital role in providing long-term support for serving and veteran members of the Armed Services who have suffered life-changing injuries and illnesses."
The centre will be home to Hasler Company, which cares for the most complex, seriously injured and long-term ill Naval Service personnel.
Officer Commanding Hasler Company Major Scotty Mills, of the Royal Marines, said: "The opening of the Endeavour Naval Service Recovery Centre represents a significant opportunity for my 91 complex, seriously injured and long-term ill Hasler Company patients.
"This state-of-the-art facility really demonstrates how determined we all are to ensure that we continue to support our wounded, injured and sick.''