Identical twins' polar trek aids scientific research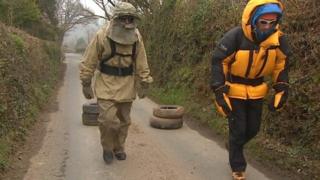 Identical twins preparing to trek across the Arctic for charity are taking part in some "old versus new" scientific research.
Hugo and Ross Turner, 25, from Christow in Devon, are crossing the Greenland ice cap to raise money for spinal research after Hugo was nearly paralysed in an accident on a Cornish beach eight years ago.
However, the Department of Twin Research at King's College London is using the expedition to study how modern clothes, food and equipment protect the body.
Hugo will have modern kit, equipment and food, while Ross will be kitted out with clothes similar to those worn by Sir Ernest Shakleton 100 years ago. Ross will also have an early 20th Century polar expedition diet.
Ross will be pulling a 1900s-style sled which is being specially made for the Greenland ice cap trek from Kangerlassauq to Tasiilaq.
King's College will monitor if and how Hugo benefits from advances in modern technology and nutrition.
Base line tests, such as height, weight, body mass, blood pressure and bone density, were carried out in May last year, before the twins began their training regime.
"These are fairly routine tests - the twins say it's a bit like having an MOT," project manager Dr Kirsten Ward told BBC News.
"We'll repeat these tests in April before they go and then again after they return."
'Rather stupid idea'
The expedition will set off on 26 April and, during the 30-day trek, the twins will test their blood-sugar levels every day and will also test their saliva for stress hormones.
"One could assume Hugo would benefit wearing warmer clothes, pulling a lighter load and eating food more suited to the conditions, but we'll have to wait and see," Dr Ward said.
"No-one's really compared this before and, because the twins are identical, any differences we discover will almost certainly be down to external factors like diet, equipment and clothes."
Dr Ward said Hugo's accident should not have a bearing on the scientific tests.
The "freak" accident, in July 2007, happened at Daymer Bay on the Camel Estuary when Hugo was 17.
"I was just running into the sea to swim - not jumping off rocks or anything like that," he said.
"It was super flat, but when I dived in I hit a sandbank and crushed my neck."
Doctors told him he was millimetres away from becoming a tetraplegic.
He had to undergo six months of corrective surgery, including bone grafts, followed by a further 18 months of rehabilitation.
"I'm quite stiff in the neck, but fortunately I'm able to walk," he said.
The twins were part of the youngest four-man crew to row across the Atlantic two years ago.
"That was hot and wet and this will be dry and cold," Hugo said.
Despite thinking the polar trek is "possibly a rather stupid idea", the twins' parents have been very supportive.
Hugo and Ross have also ruled out any problems of sibling rivalry.
"We never argue - there's absolutely no point because it's like arguing with yourself in the mirror," Hugo added.