Hallsands residents fear for storm-hit village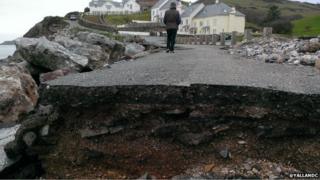 Residents of a former fishing village in Devon fear for their homes after storms wrecked sea defences, a road and car park.
The coastline at Hallsands has been designated by the Environment Agency for no intervention.
The classification means that the coastline around the settlement will be left to the forces of nature.
Local MP Sarah Wollaston said she was "desperately sorry" for those living there.
Most of the village was lost to the sea in storms during 1917.
At the start of the 20th Century, Hallsands was protected from the sea by a shingle beach, which absorbed the impact of the waves.
But the shingle was dredged to build Plymouth dockyard and when heavy storms hit the coastline the houses crumbled into the sea.
A government report later blamed the dredging for the disaster.
'No second betrayal'
The current residents have formed an action group called N2B - which stands for No Second Betrayal.
One of them, Jonathan Hale, said: "Further up the coast we have seen a flurry of activity to repair the damage done by the recent storms.
"Everyone in Hallsands knows the story of destruction of the old village and how its inhabitants were betrayed by councils and government.
"This is especially true of those who, like me, have family connections with the old village.
"We are determined that there will be no second betrayal."
Ms Wollaston said: "The long-standing position is that there is no active intervention.
"The residents feel neglected, but the agency says that people would have known about the designation when they bought their homes.
"I feel desperately sorry for the residents but we cannot force the agency to change its line."
No-one was available for comment from the Environment Agency.