Seaton tramline undergoing 'urgent clean-up'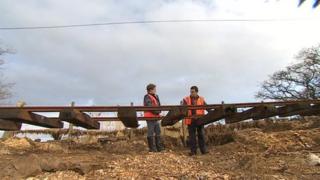 A tramline in east Devon is undergoing a clean-up operation after tonnes of ballast were washed out from under it by recent storms.
About half a mile of the track of Seaton tramway, which runs trips for tourists along the River Axe, was badly damaged by the weather.
Parts of the line have been left hanging in mid-air and poles supporting electric cables fell on sections.
The clear-up could cost hundreds of thousands of pounds, staff said.
The tram - which runs on three miles (4.4km) of former British Rail track dating back 150 years - attracts some 90,000 visitors each year, taking in Seaton, Colyford and Colyton.
Managing director Jenny Nunn said the damage had been "devastating for us and the area" and the attraction had to remain closed over the recent half-term holiday.
She said: "We're so reliant on tourism here. It's the number one industry."
Staff said they hoped the attraction would be fully up and running for the start of the holiday season.
The tramway is not the only train line recently affected by storms in Devon.
Damage to the railway line in Dawlish - which connects Cornwall and most of Devon to the rest of the UK - is not due to be repaired until mid-April, Network Rail said last week.