Devon potholes cost extra £65K a week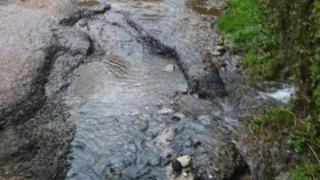 Spending on pothole repairs is to rise by an extra £65,000 a week in Devon.
The county council says that more than 200 potholes are being reported on Devon's roads every day.
It follows damage to the roads in a series of storms and heavy rain since the new year.
The authority is increasing the number of staff working on filling potholes from 13 to 34 at an extra annual cost of £3.34m, on top of the estimated £3m clear-up cost of storm damage.
The council, which has agreed £28m of cuts next year, said it would be asking the government to help with the extra cost.
Councillor Stuart Hughes said: "The government has said that it will foot the bill for the storm damage, but despite putting extra resources into repairs there has been a massive increase in pothole numbers, from about 2,000 a month in a normal winter to about 7,400 in January alone.
"I have lobbied the government for extra funding and we are also working with Devon's MPs to explain the impacts of insufficient funding on our roads."
The council has also asked the Department for Transport for £15m in extra capital funding on roads next year.