House cash will not prevent Teignbridge budget cuts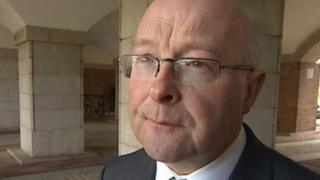 Money made from the sale of ex council houses will not be used to protect services threatened by budget cuts.
Teignbridge District Council plans to cut public toilets, CCTV and road cleaning, claiming central government funding cuts have left it no choice.
The Lib Dems wanted the Conservative-controlled authority to use a £300,000 under spend to protect services.
However, the amendment to spend the money on preserving services was beaten by two votes.
Job creation
Conservative councillor Stuart Barker said allocating the money to the services in the amendment was "risky".
Instead, the council plans to use the £300,000 on providing a road junction for the new South Devon Link Road at Decoy.
"To use £300,000 for the provision of a new road will create 500 jobs - it's a good use of money," Mr Barker said.
Liberal Democrat councillor Alan Connett, who submitted the budget amendments, said he was disappointed the money would not be used to offset the cuts.
"Every time a former council house is sold in Teignbridge, the council gets a share of that money," he told BBC News.
"For the coming year, they're expecting £300,000 more than they predicted and it's not included in their budget."
The vote means that CCTV funding will be withdrawn and some public toilets will close unless they are taken over by parish councils or local businesses.
Non-statutory duty
Teignbridge said, like all local authorities, funding from central government had been reduced and, as it has already pledged not to increase council tax, some services would have to be cut.
Newton Abbot, Bovey Tracey and Dawlish could all be hit by the council's proposals to withdraw funding for CCTV, which it claimed costs about £40,000 a year.
In September, council leader Jeremy Christophers said providing CCTV was not a statutory duty.
He suggested the cost could be borne by local businesses who benefitted from the reduction in crime, the CCTV cameras provided.
The Department for Communities and Local Government said it had delivered a fair settlement to every part of the country and local government finance now put councils "in the driving seat".
A spokesman said: "The spending power per household for Teignbridge area will be £1,930 in 2014-15. As a 31 March 2013 Teignbridge had reserves of £3.4m."