Storm reveals unexploded WW2 bomb on Crow Point beach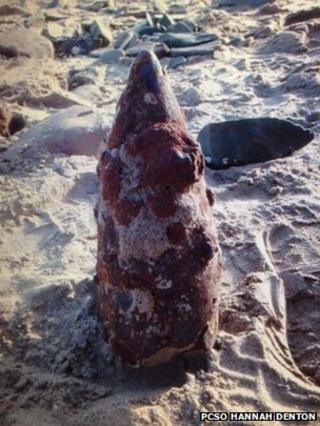 The Royal Navy was called in to deal with an unexploded World War 2 bomb which washed up on a Devon beach after recent storms.
The device, found at Crow Point beach in Braunton on Sunday, is thought to be a mortar for illuminating targets.
Police cordoned off the area while the Royal Navy worked on the device. It was declared safe on Monday afternoon.
It follows the discovery of similar wartime explosives in Minehead in Somerset and in Dorset.
Sgt Lee Henderson, of Devon and Cornwall Police, said: "The ferocious seas and weather are thought to be responsible for uncovering or washing up these shells.
"There is clearly the potential for further bad weather to unearth more."
He urged anyone who saw a suspected explosive on beaches to call 999 immediately and not to approach them.