Mid Devon District Council considers 'new town' scheme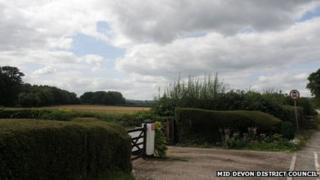 A new 3,000 home community could be built in Devon, a district council has said.
Mid Devon District Council is looking at two sites, one near junction 27 of the M5 at Willand and the other near the motorway at Cullompton.
The development is being considered as an alternative to expanding Tiverton, Cullompton and Crediton.
A public consultation over whether to grow the towns or build the new community after 2026 has been launched.
Councillor Richard Chesterton, cabinet member for planning and economic development, said the council needs to decide "on the best places to put new development".
"The more feedback we get, the better we can judge the best way forward," he said.
The mayor of Cullompton, Gordon Guest, said the town's council thought the new community proposal, part of the Mid Devon Local Plan Review, was "an excellent idea".
"We put a plan together last July which we sent to Mid Devon Council and we talked about that very idea," he said.
The consultation is open until 24 March and will include councillors visiting schools to hear the views of pupils.