Campaign group concerned at coastguard staffing in the south west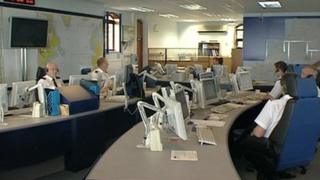 Coastguard rescue centres covering the south west region are regularly understaffed, according to a national campaign group.
Coastguard SOS said 20% of shifts at Portland, 10% at Falmouth and 4% at Brixham were below safety levels.
The Maritime and Coastguard Agency said where staffing was reduced, centres were paired up with others for support.
Staff at Brixham coastguard have been handed their redundancy notices ahead of the station closing in November.
Coastguard stations in Solent and Portland will close in the autumn.
The campaign group, which was set up to preserve coastguard services, used a Freedom of Information request to access figures highlighting understaffing at many Marine Rescue Co-ordination Centres (MRCC).
The figures published by the group show Brixham and Falmouth coastguard experienced days in 2013 when staffing was below so-called "safe levels".
On the worst day, Brixham was 13% below the minimum level and Falmouth was 23% below the threshold.
Falmouth's figures were worse for 2012, on average its staffing was 44% below par and on one day in September 2012 it was 65% under strength.
Dennis O'Connor from National Coastguard SOS said: "We've had repeated assurances from the Maritime and Coastguard Agency that this closure process is safe.
"But the figures released prove the service is far less resilient today than it was when the process started."
In a statement the Maritime and Coastguard Agency said: "Currently, where a Maritime Rescue Coordination Centre is experiencing reduced staffing levels, established 'pairing' arrangements are used.
"This means each MRCC can be connected to at least one other MRCC that will provide mutual support."