Plymouth to sign a government 'city deal'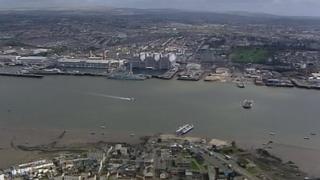 A multimillion-pound scheme which aims to create more than 9,000 jobs and bring investment is coming to Plymouth.
Cities minister Greg Clark and the local council will announce the City Deal plan in the city's dockyard later.
Mr Clark said Plymouth was receiving the funding because of its historical and maritime connections.
The deal is a "once-in-a-generation opportunity" to expand the region's marine and advanced manufacturing industries, he added.
Under the City Deal scheme, certain powers are devolved from central government to local authorities.
'Freed from Whitehall'
The government can give the city control to take charge and responsibility of decisions that affect its area, create economic growth and decide how public money should be spent.
Such deals are already in place for bigger cities such as Newcastle, Birmingham, Liverpool and Manchester.
Deputy Prime Minister Nick Clegg called them "groundbreaking deals... freeing cities from Whitehall control".
In Plymouth, about £6m will go on new business support for companies in the marine sector, and £3m on a scheme to get young people into the workforce.
As part of this scheme, government and local partners have also agreed £19m of funding to provide infrastructure for any land that is released for development.
'Engine of growth'
The deal will seek to unlock land at South Yard in Devonport Naval Base for development and make it suitable for marine industries to move on to.
Tudor Evans, the leader of Labour-controlled Plymouth City Council, said: "What we've said to the government is give us South Yard, and some cash and we'll create up to 9,500 jobs.
"We'll do a youth deal which will give young people access to career progression, and also a massive boost to business support across the region."
Mr Clark said: "Plymouth is one of the United Kingdom's biggest assets - known all over the world for experience and excellence in marine engineering, which is one of the fastest-growing markets across the world.
"This deal draws on that success and sets Plymouth up to be an engine of growth for the national economy."