South Devon Railway landslip clearance work begins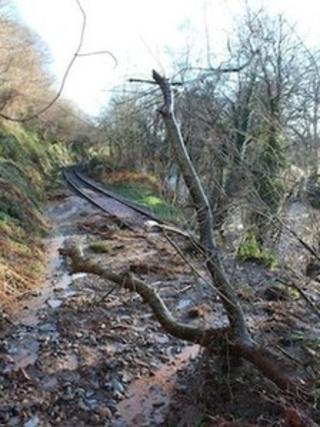 Work to repair landslip damage to one of Britain's oldest heritage steam railways has begun.
Heavy rain and strong winds between 23 and 26 December brought trees, rock, silt and earth onto the track at the South Devon Railway (SDR) between Buckfastleigh and Totnes in Devon.
SDR normally carries 3,000 to 4,000 passengers over the festive period, but services had to be suspended.
It is hoped the railway will reopen on 15 February, manager John Haslam said.
"The tree-felling contractor is on site and work to remove the trees and timber debris will begin this afternoon," he said.
"Two more trees are at great risk of falling, so they have to be taken down too."
'Complicated logistics'
Other work will include lifting six lengths of rails and concrete sleepers in order to remove ballast [used for drainage] which has been contaminated with soil and mud and assessing the damage caused to the track by the "sheer force" of the water.
"We're putting additional drainage under the track and will have to stabilise the cutting above the site," Mr Haslam said.
"It's a very restricted site and all the materials are having to be brought in by train.
"The logistics complicate things... but we're very confident we'll be up and running by 15 February."
The majority of the repair costs will be covered by insurance, although the SDR will have to pay about £15,000 for the policy excess and other work not covered.