Devonport incinerator site digger used in 'rampage'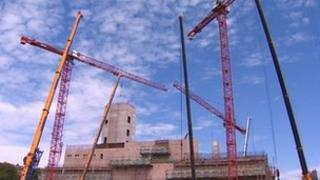 A digger has been stolen and set on fire in a "rampage" at the construction site of Plymouth's new incinerator.
Devon and Cornwall Police said fire crews were called to the site in Devonport after reports of a fire at about 17:00 GMT on Thursday.
The Thwaites digger was used to damage other equipment in the compound before being set on fire. The damage is estimated to total about £90,000.
Police are appealing for witnesses who may have seen any suspicious activity.
'Appealing' vehicle
Sgt David Eames, of Devon and Cornwall Police, said: "As well as the significant financial loss, I am also concerned about the safety of the individuals who have qualified themselves to drive such specialist machinery.
"Although it may be appealing, driving a digger could result in serious injury and it is incredibly fortunate no-one was hurt."
German company MVV is building the plant at the Devonport North Yard.
The site will produce electricity and heat by burning rubbish from Plymouth and much of south and west Devon and is due to start operating in 2015.