WW1 banner to tour Devon in memory of dead relatives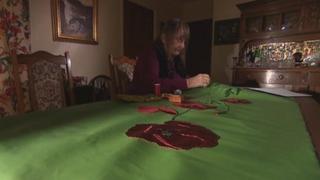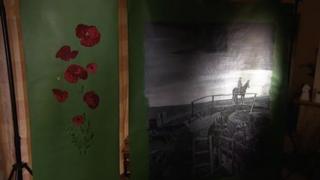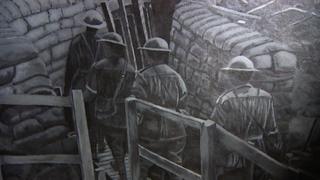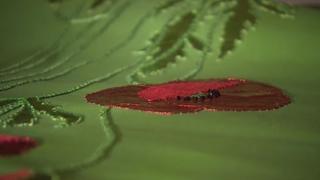 A banner to help people remember family members who died in World War One is to tour Devon as part of events marking the centenary of the outbreak of war.
The 6ft high black and white artwork depicts scenes from the trenches and silk poppies will be sewn around it - each one honouring someone who died.
Artist Adrienne Howells said: "They gave their life for the country and they ought to be remembered for that."
The banner will officially be launched at Westpoint in Exeter in January.
It will then tour the county, including a number of National Trust properties and the Guild Hall in Exeter.
The banner - entitled We Will Remember - includes black and white paintings and two sides of intricate design work that has taken more than six months to complete.
Ms Howells, from Upton Pyne, near Exeter, said: "Most of the images from back then were black and white, it is a view of the period and colour makes it too exciting and I don't want it exciting.
"I want it as a memory and a memory that we don't forget."
People visiting the banner can mark one of the red silk poppies with a message about a family member who died in the 1914-1918 war, to help form a record of how the war affected the county.
Carol Arnold, from the Royal British Legion in Devon, said: "We will also have a little book by the side, and they can have their memories, of their grandparents and things that will stay there forever, and that book will be given to us to look after, to be the historians.
"Eventually we want this banner to go somewhere special and we will be talking to people about where it stays as a memory of the people of Devon."