Polbathic locals offer shares to save pub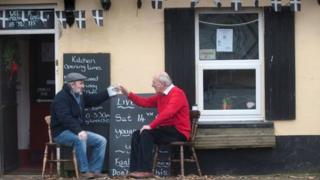 Locals have launched a community share offer to save their village pub from closing.
Residents of Polbathic, Cornwall, are being urged to contribute £250 to become a co-owner of The Halfway House after its owner, Pubfolio, went into administration.
A newly formed co-operative society, Polbathic Community Pub, is aiming to raise £145,000 by Christmas Eve.
The society said it had raised about £50,000 so far.
'Great community spirit'
The pub is still being run by partners Kevin Rix and Wendy Naylor who are working with the society.
Member Vez Sullivan said it was a "race against time" because the pub could be bought by a developer.
"We have been delighted with the initial response," he said.
"However, with the asking price now reduced and a quick sale required, we need to raise at least £145,000 so that we have the funds in place to support our offer to buy the pub.
"A well-run pub can put the heart back into the community.
"We aim to sell local ales and be a focus for community events, celebrations, social and cultural activities."
Mr Rix said: "The pub is run down, but it has such character.
"There's a great community spirit here and it would such a shame to see the pub close."