Twomey crash deaths: Police criticised by lone survivor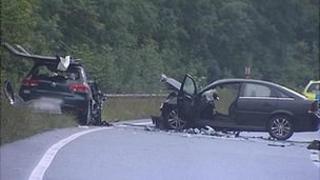 A woman who lost her infant son, unborn daughter and husband in a crash involving a suicidal man has criticised police over the deaths.
Elber Twomey's 16-month-son, Oisin, was killed when a car being driven by Marek Wojiechowski and pursued by police hit the family's car in Torquay last July.
An inquest has heard police had been informed Mr Wojiechowski was suicidal and were following the guidelines.
During the inquest, Mrs Twomey said flashing police lights "panicked him".
Mrs Twomey, whose 39-year-old husband Con died as a result of his injuries 10 months after the crash, said police putting on their sirens and "caused him to do what he did".
'Horrific story'
The inquest in Torquay previously heard the 26-year-old Polish taxi driver had marital problems, had been asked to move out, and that a suicide note from him was found.
He was being pursued in Hamelin Way by a police car when his Vauxhall car veered into a Volkswagen Golf which was carrying the Twomey family.
The family was on holiday from Meelin in Cork in the Republic of Ireland.
Mrs Twomey, who was 24 weeks pregnant, lost her unborn daughter in the crash.
Mr Wojiechowski died in hospital from his injuries.
Speaking at the inquest, Mrs Twomey said she hoped Devon and Cornwall Police would learn from her "horrific story".
She said: "I don't blame the officer involved personally, but I do blame the police service.
"The service needs to review how it deals with a missing person who is known to have left a suicide note."
She added that "supervisors need to consider the principle of least intrusion, to use a stinger and a safe location to stop instead of using a siren and having blue lights flashing".
The coroner said the officer involved carried out his duty in an exemplary fashion and followed guidelines - but said the guidelines should be reviewed.
'Devastating impact'
The inquest jury ruled that Mr Wojiechowski died as a result of a deliberate act in an attempt to commit suicide.
It also ruled that Oisin Twomey died as a result of a deliberate act by Mr Wojiechowski in his attempt to commit suicide.
Ch Supt James Nye, of Devon and Cornwall Police, said after the inquest that the force operated "entirely with nationally agreed procedures and training".
He added: "We continually review responses to serious incidents in order to update our training where appropriate.
"This was a tragic incident that had a devastating impact on the policing community."