Transplant woman meets Great Ormond Street surgeons again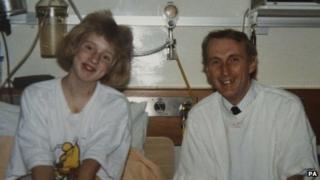 A woman who described herself as a "congenital disaster zone" has been reunited with medical staff who performed a heart and lung transplant on her 25 years ago.
Tineke Dixon had two holes in her heart and Eisenmenger syndrome, which caused her lungs to start failing.
She was not expected to live beyond her teenage years but is now a 41-year-old married doctor living in Exeter, Devon.
Her "rare" transplant was carried out at Great Ormond Street Hospital.
As a teenager she spent much of her time in a wheelchair and was dependent on oxygen at night.
Princess Diana
She became so ill she was put on the transplant list at the age of 16 and was told she had about six months to live.
"I can still remember lying in a hospital bed and hearing my parents' cries of anguish coming down a corridor as the doctors told them I had only a few months left," she said.
"It was an emotional time and I remember it vividly."
She underwent surgery in November 1988 and while in hospital met Princess Diana and presented a Christmas card to her on behalf of the children.
"After my operation, I had a punctured lung and had to spend Christmas in hospital... but my mother kept the Christmas tree standing until I was well enough to return home - though by then half of the needles had fallen off."
Dr Dixon said the first two years after surgery were very difficult, but she counts herself "very lucky indeed" to survive.
Two others who went through similar operations before her at the hospital had died after a few years later.
Eight years after her surgery, Dr Dixon's kidneys began failing due to congenital disease inherited from her father. She was again put on the transplant list and two years later underwent surgery - with an organ donated by her mother.
She studied medical physics at the University of Exeter, went on to obtain a PhD at Cambridge University and now works as a manager for the NHS.
Dr Dixon travelled back to Great Ormond Street Hospital to be reunited with the medical staff who took care of her as a teenager - many of whom have since retired.
'Everlasting gratitude'
Dr Paul Aurora, a consultant in paediatric respiratory medicine and lung transplantation at the hospital, said 25 years ago the survival rate following double transplants was low.
"At the time Tineke was transplanted, only about a third of children receiving lung or heart-lung transplants were able to survive up to five years," he said.
"Transplanting the heart and lungs together is a rare type of transplant, and is now only performed when both organs are failing, as was the case for Tineke 25 years ago."
However Dr Aurora said none of the work would be possible without the "gift" made by the families of organ donors.
"They all have our everlasting gratitude," he added.
Organ Donation UK said Dr Dixon was one of the country's longest surviving heart and lung transplant patients.