Proposals for new Torquay island and Pavilion move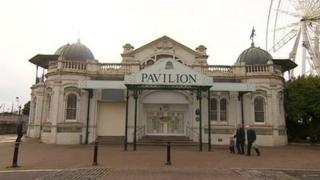 Proposals have been put forward to move one of Torquay's most historic buildings on to a new island to be built in the town's harbour.
Those behind the plans for the Grade II-listed Pavilion said the move would help regenerate the resort and improve the town's image.
Businessman Mark Hoyle, who is behind the project, said it would cost about £13m.
Critics said they were unsure if it could get permission.
The building - which opened in 1912 as a concert hall, theatre and cinema - is currently a shopping arcade.
'Buzzing town' ambition
Mr Hoyle said he believed the project would encourage more visitors and solve the problem of Torquay having no central public space for big events.
He said: "We want to see the town buzzing, and I think every business would understand that.
"This is about more than just 170 boat users, this is about tens of thousands of people being able to use this facility."
The Torquay Harbour Users Group opposes the idea.
Users group chairman Marshall Ritchie said: "I'm just wondering whether they can do it.
"We're talking about heritage, a Grade II-listed building.
"People don't just give permission [for such a project] in seconds."
No planning application has yet been made for the project.