Thousands of Devon households in arrears on council tax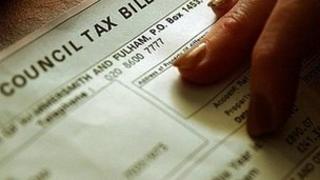 About 6,000 low income households in Devon have fallen behind on their payments following changes to their council tax benefits.
Some working age people previously would have had their council tax paid in full.
But since April they have been asked to contribute at least 25%.
The government says spending on council tax benefit doubled under the last government, and that welfare reform is vital to tackle the budget deficit.
The change in April meant that local councils took over responsibility for the benefit from the government, but with 10% less money.
To plug the funding shortfall, some local councils in Devon are asking working age people who are entitled to the benefit to pay between 20 to 25% of their bill.
But figures obtained by the BBC show that already people are struggling to pay.
For instance, in East Devon more than 1,000 reminders have been sent out to those in arrears.
In Torbay, more than 1,000 final notices have been issued.
The government said the localisation of council tax support would mean more help for people to avoid them having to go to court.
It said this was while delivering savings of £470m a year as well as giving councils stronger incentives to cut fraud and get people back into work.