Stowaway pigeons rescued off UK coast by the Royal Navy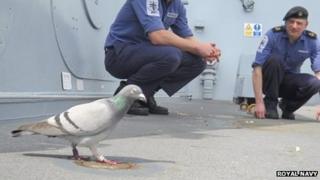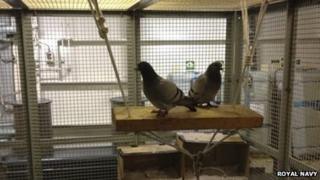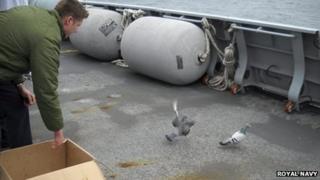 Two stowaway pigeons have been rescued by a Royal Navy warship off the coast of Plymouth, Devon after they became exhausted.
Sailors aboard HMS Diamond created a makeshift aviary for the two racing pigeons - nicknamed Gregory Peck and Sir Henry Cecil.
The birds stayed with the crew for 10 days before the ship returned to its home base of Portsmouth, Hampshire.
The pair were then fitted with their own tag before flying home.
Navigating Officer, Lt Eleanor Tilley launched the initial rescue of Gregory after he "refused to leave the ship as they were about to start gunnery and helicopter serials".
'Clearly struggling'
Cecil arrived on the flight deck two days later.
Ms Tilley said: "A ship at sea obviously attracts the occasional bird, but these are usually transient and depart after a short period.
"Gregory and Cecil were clearly struggling with the journey they had been on and needed help.
"Having seen them onboard for a few days, and knowing that the ship was to be at sea for some time, the team felt obliged to give them a little support to aide them on their way."
Commander Andy Ingham, HMS Diamond's Commanding Officer, said: "They have been fairly unusual additions to the ship's company on board.
"However, both of them have been popular with the team and a healthy distraction for some during our recent time at sea.
"I suspect they were quite sorry to say goodbye to our transient passengers."