St Boniface's Catholic College head Peter Eccles resigns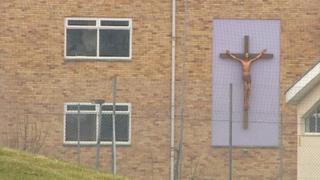 The head teacher of a school in Plymouth has resigned following an "inappropriate relationship" with a female member of staff.
Peter Eccles was suspended from St Boniface's Catholic College in March following a written complaint.
An independent investigation concluded the relationship was contrary to the teachings of the church and had brought the school into serious disrepute.
Mr Eccles' resignation will take immediate effect.
St Boniface's Catholic College was founded in 1856 by the Bishop of Plymouth as an independent boarding and day school for "young Catholic gentlemen".
Confidential report
In a statement published on the school's website, Mr Eccles said: "This episode has occurred at a particularly difficult time in my private life.
"As a result of the inquiry and the extensive media interest it has prompted, I have tendered my resignation."
Chair of governors Stephen Hole said the investigators' report was confidential and would not be published,
However, Mr Hole added that he wished to acknowledge Mr Eccles' "considerable commitment" to the leadership of the college.