Cliff falls send house price tumbling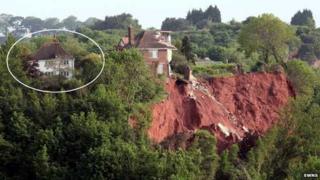 A falling cliff in Devon has led to falling house prices with one property on the market for £25,000.
Tor Cottage, which would be worth about £400,000 in normal circumstances, is yards from the edge of Oddicombe Cliffs in Torquay.
Nearby Ridgemont House has already collapsed into the sea due to a landslide.
Four-bed Tor Cottage, in one of Torquay's most exclusive areas, is also deemed officially uninhabitable.
Torquay Council's prohibition order means it will not allow occupation until a structural work is carried out to make it safe.
Chris Hodgkinson of sellers the House Buyer Bureau said: "The location is fantastic, while it's still there.
"I think there's loads of potential, for holiday chalets maybe. Where's there's risk, there can be reward.
"There could be another collapse in three months time, but it may be a 100 years before there's more movement there, who knows?"
The property is going under the hammer next month.
Auctioneer Graham Penny said: "It's possible a shrewd buyer could get a return on their investment if Mother Nature is kind to them."
Tor Cottage's previous owner, who declined to comment, has been renting out the property.