Ikea vow to consider concerns over Exeter houses plan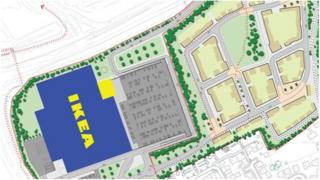 Ikea says it will listen to concerns about plans to build 200 houses next to its proposed new store in Exeter.
Plans for the 28,000 sq m store with new houses on Newcourt Way, near Sandy Park stadium, have gone on display.
Opponents fear the local infrastructure will not be able to cope with the additional people and traffic.
Ikea said: "Our priority is to listen to the views of the community before we submit our outline planning application."
Exeter councillor Rob Newby said: "I am not against houses. I am unsure about the density of the properties and this is going to burden the schools in the area that are already oversubscribed.
"I don't want to frighten Ikea away, but I am concerned."
The company said the site was within the city council's Newcourt master plan guiding development in the south east of the city and had been allocated for both residential and economic uses.
The public exhibition is from 13:00 to 20:00 BST at Sandy Park Stadium and on Saturday at the main hall at Exeter Guildhall from 10:00 to 17:00 BST.