Cow rescued after becoming trapped in garage pit after roof fall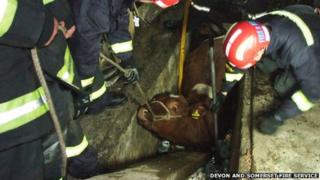 A cow that fell through a garage roof and became trapped in a vehicle inspection pit for more than 24 hours has been rescued.
The 18-month-old heifer was found in the garage in Holes Hole, Bere Alston, Devon, on Tuesday night.
It is believed to have fallen through the roof after climbing on to the structure next to pasture land, Devon and Somerset Fire Service said.
The animal was freed after firefighters filled the pit with water to float it.
It was then pulled up a temporary ramp with ropes.
It is not known how the heifer scaled the roof of the garage, but it is believed to have been wedged in the pit for most of the time it was missing, the fire service said.
Paul Bray, of the service, said the animal, which was found at about 21:00 BST, came out of the pit "fairly easily" after a two-and-a-half-hour rescue operation.
He said: "It was unable to stand at first and was given a health check by a vet who had been called to the scene.
"Shortly afterwards, the cow was able to walk to its pasture."