Search is launched for new Bishop of Exeter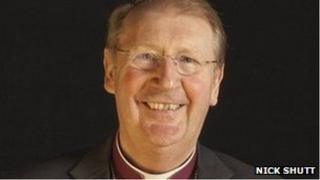 A public consultation is underway to find the next Bishop of Exeter.
Earlier this year the Right Reverend Michael Langrish, announced his intention to retire this summer after 13 years in the post.
The consultation is to find a new bishop by the end of the year, and is open to anyone who would like to have their say.
Bishop Langrish's final service will be at Exeter Cathedral at 11:00 BST on Saturday, 29 June.
Six members from the diocese will be elected to join the Crown Nominations Committee.
The committee will put forward a suggested candidate to the Prime Minister and the Queen for approval.
The consultation meeting will be attended by appointment secretaries for the Archbishop of Canterbury and the Prime Minister, Caroline Boddington and Sir Paul Britton respectively.
The meeting takes place at County Hall in Exeter, on Thursday from 19:00 BST.
It is hoped the name of the next bishop will confirmed by the New Year.