Two GB Row race crews rescued
6 June 2013

From the section

Devon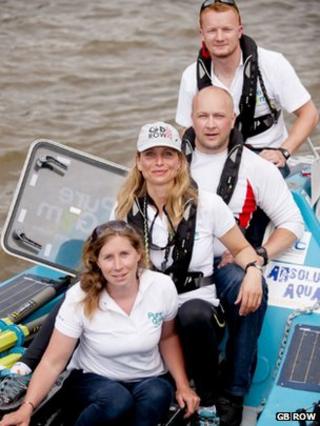 Two rowing boat crews taking part in a round-Britain race have been rescued off the South West coast.
Two men and two women, taking part in GB Row 2013, had to be towed into Salcombe, Devon, and four men were rescued off Land's End.
Three of the six crews who set off from London last Saturday are still in the non-stop 2,000 mile (3,220km) race.
Crews are chasing a £100,000 prize to beat the round-Britain rowing record of 26 days, 21 hours.
The Pure Gym crew of skipper Claire Shouksmith, 34, from Bournemouth, Dorset; Paul Pendleton, 45, from Liverpool; Steve Paterson, 28, from Oxford; and Ingrid Kvale, 43, from Bristol; reported problems with the boat's electrics at 22:00 BST on Wednesday.
They tried to make repairs but at 10:00 BST on Thursday, with one of the crew suffering seasickness, they called coastguards at Brixham.
The power supply is vital for communications and navigation as well as producing drinking water from seawater.
Skipper 'gutted'
Adventurer Ms Shouksmith, who walked to the North Pole four years ago, said: "All had been going really well when as soon as it got dusk last night the electrics went off.
"Our intention was get out of the wind at Salcombe so we could fix our electrics.
"But off Start Point it was blowing a force 6 which was blowing us to France and we had no power whatsoever apart from a battery-operated radio.
"I'm gutted. I have spent two years planning it and quit work. I have changed my life for it."
Hallin Marine 2, skippered by David Hosking 58, from south London; with crewmen Neil Ward, 41, from Les Contamines in the French Alps; Julian Bellido, 29, from Gibraltar; and Stuart Chamberlayne, 22, from Coulsdon, Surrey; is being towed in two miles off Land's End.
Charlene Ayres, 23, and Sally Kettle, 36, pulled out of the race after their boat became stuck less than 100 miles from London.