Exeter and Plymouth lawyers walk out in legal aid demo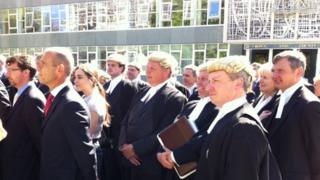 Lawyers in Devon have walked out in protest at planned cuts to legal aid by the government.
At 09:59 BST barristers and solicitors staged a one-minute protest outside crown courts in Plymouth and Exeter.
Ministers are planning to cut £220m from the annual criminal case legal aid budget in England and Wales.
The Ministry of Justice said the changes were aimed "getting the best value for the taxpayer".
The proposed changes will end the current system in which anyone accused of a crime can call the solicitor of their choice who can then apply for legal aid.
'Wrong way'
Under the proposals there would be fewer organisations providing legal aid work. They would compete for contracts on price, with companies such as logistics firm the Stobart Group bidding for work.
Solicitor Rachel Bentley of Trinity Advocates in Exeter, where about 50 lawyers walked out, said the number of legal aid lawyers in England and Wales would be cut from 1,600 to 400.
She said: "It will make price the competitive element in getting a lawyer, rather than quality.
"It is not right for society."
Graham Kinchin, who was among about 30 lawyers who protested in Plymouth, said: "Price competitive tendering will put an end to the criminal justice system as we know it.
"We all understand there is a need to save money, but we just think the government is going about it in completely the wrong way."
Justice Secretary Chris Grayling said: "We have one of the best legal professions in the world. But at a time of major financial challenges, the legal sector cannot be excluded from the government's commitment to getting better value for taxpayers' money.
"We believe costs paid to lawyers through legal aid should reflect this.
"Professional, qualified lawyers will be available, just as they are now, and contracts will only be awarded to lawyers who meet quality standards set by the profession."