Derriford Hospital sorry over penicillin error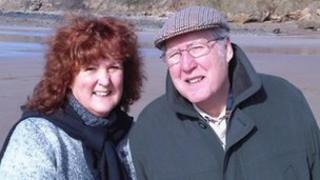 A Devon hospital has admitted making a "serious error" after a patient who was given penicillin despite being allergic to it died.
John Dudding, 80, died in Derriford Hospital, Plymouth, three days after being given the drug in February 2012.
His family said the hospital was told about his allergy.
Conservative Plymouth MP Oliver Colville said it was "a deeply tragic event" and called for a review into the way Mr Dudding's treatment was handled.
Mr Dudding, from Sutton in Plymouth, was admitted to hospital after suffering a fall at his home.
While his family was visiting he was given an injection containing a derivative of penicillin and became ill "within seconds".
Red wrist band
His daughter Kim Tremaine said: "My father was bright red and his face was so swollen, it was two or three times the size.
"He was gasping for breath."
She added: "My father told the ambulance men when they arrived [about his allergy] and they placed a red wrist band on his wrist.
"When he got to A&E he told them about his allergy.
"I saw on his medical documents at the bottom of his bed that it said 'allergic to penicillin'.
Mr Colville has written to the health secretary, the hospital's chief executive and Ian Arrow, coroner for Torbay and South Devon.
'Serious drug error'
He said: "This is about how people are treated when they go into hospital.
"They go into hospital in order to get better and to come out.
"They don't go into hospital in order to be injected with something that they shouldn't have.
"I am appalled by this, this is a deeply tragic event."
Plymouth Hospitals NHS Trust said: "We let Mr Dudding down in terms of the care we provided because there was a serious drug error and we apologise sincerely for this.
"We don't know how or if this drug error contributed to Mr Dudding's death.
"That is for the inquest to determine.
"We will, of course, co-operate fully with the coroner and Mr Dudding's family."
An inquest into Mr Dudding's death is expected to take place later this year.