Staddicombe rugby match moved after travellers park on pitch
25 May 2013

From the section

Devon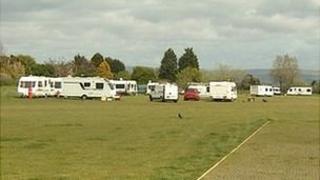 A Plymouth rugby club has had to move a charity match and training for more than 250 youngsters after travellers moved on to pitches.
About 20 caravans moved on to Horsham Fields in Staddicombe last Sunday.
Plymstock Albion Oaks Rugby Club said it was concerned for its pitches and Plymouth City Council said it was applying for an eviction court order.
One traveller, who did not want to be identified, told the BBC there was nowhere else for them to go.
The charity match was being organised to raise money for injured players.
'Refuse and excrement'
Club vice chairman Neil Gill said there was concern about the state of the pitches.
He said: "There's a lot of refuse and excrement on the pitches, so it's going to be a tidy-up even when they do go."
Coaches also said they were concerned children involved with the club would fall behind in their training for next season.
The city council said it had inspected the site and had provided bins and toilets.
But it added the court order could take up to a fortnight to obtain.
A small number of the travellers moved off the site on Saturday afternoon.