Cat shot with air rifle has 'lucky escape'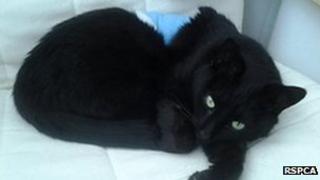 A cat who survived being shot with an air gun had "a lucky escape", an animal charity says.
Five-year-old black cat Theo was shot with an air rifle near his home in Lutyens Drive, Paignton, Devon, the RSPCA said.
The cat's owner said it was "horrible to see Theo suffer so much".
The charity said it was a "callous and inexcusable way to treat an animal" and it would prosecute the offender if they were found.
'Lingering deaths'
Theo's owner, Alastair Butlin, said the family pet was found curled up at the back of the garden shed, bleeding from his abdomen, after members of the family went to look for him on 9 May.
A vet discovered he had been shot.
Mr Butlin said: "Theo never goes very far, so it must have been someone who lives nearby, which is horrible to think about.
"We were lucky in some ways. The pellet just missed his lungs, heart and spleen - all of which would have been life-threatening.
"It was horrible to see Theo suffer so much, but even worse is the thought of what could have been and what could be in the future."
RSPCA inspector Jim Farr said Theo "had a lucky escape, but the next cat might not be so lucky".
He said: "Not only are airgun attacks on cats often fatal - but they kill animals in a slow, lingering way involving a lot of suffering.
"It is an offence the RSPCA takes very seriously."