Devon hospitals recruit nurses from abroad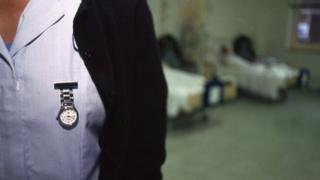 Nurses have been recruited from Spain, Portugal and Ireland to fill vacancies in Devon hospitals, health bosses say.
From 273 nurses employed by the Royal Devon and Exeter Hospital (RD&E), 72 were from outside of the UK.
There are 50 vacancies at the North Devon District Hospital (NDDH), which has so far found 13 nurses and paid more than £30,000 in recruitment fees.
The Royal College of Nursing (RCN) said there was a "recruitment crisis". The Department of Health disputes this.
'Huge problem'
The RD&E said it had recruited a "significant number" of registered nurses from both within the UK and overseas.
Of the 273 nurses employed in the last 12-months, 70 were from European Union (EU) countries, with the majority from the Republic of Ireland and Spain.
It added that two had been recruited from outside the EU.
The NDDH said it was working with an international recruitment agency to find nurses, most of which were newly qualified and from Spain, Portugal and Ireland.
Plymouth Hospitals NHS Trust, which manages Derriford Hospital, said following job fairs in Ireland it had made 41 offers of employment to nurses.
Jeannett Martin, South West director of the RCN, said in recent years there had been a drop in the number of nursing posts across the country.
She said the knock on effect had been a reduction in university places for nurses to train.
Ms Martin added it was "a huge problem" and if the trend continued there would be fewer nurses to employ.
The School of Nursing and Midwifery at Plymouth University said an extra 113 places were being created from September for people to study adult nursing.
Torbay Hospital said it had not yet looked for nurses abroad but it was an option it might consider in the future.
A Department of Health spokesperson said: "We do not accept there is a national shortage of nurses.
"However, it is up to trusts to recruit and ensure they have appropriate levels of staff.
"If they cannot recruit enough staff locally they may opt to seek nurses from further afield.
"Nurses from abroad have made a very valuable contribution to NHS patient care. However, they should only work in the NHS if they have proven their competence and language skills."