Delayed Dartmouth Lower Ferry service reopens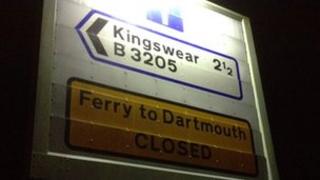 A ferry service in Devon is back in operation after undergoing a £1m refit.
The Dartmouth Lower Ferry was due to restart at the end of March and then again at the end of April.
South Hams District Council, responsible for the work, blamed delays on unexpected difficulties getting hold of repair materials from China.
The Dartmouth Lower Ferry transports vehicles and foot passengers between Dartmouth and Kingswear. The river crossing dates from the 14th century.
A spokesperson for South Hams District Council said: "The delays have been caused by a mixture of factors including difficult ground conditions on the Kingswear side and the late delivery of the specialist fendering delivered from China, which was over a month late."
The council said the new fendering should "significantly cut vibration and impact noise from the ferry operations for those residents bordering slipways".
Councillor Hilary Bastone said it was hoped the work would "future-proof the working of the ferry for the next 50 years".