Crime spree pair Matthew Pitt and Paul Gregory jailed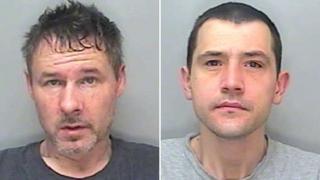 Two men have been jailed after a two-day crime spree in Devon and Cornwall.
Matthew Pitt, 41, and Paul Gregory, 36, both of Waggon Walk, Birmingham, were caught when their car crashed feet away from a police station.
The men came to Devon in February to "escape" problems at home, but resorted to theft when they ran out of money, Exeter Crown Court heard.
Pitt and Gregory admitted burglary and theft and were jailed for 38 months and 22 months respectively.
Pitt also admitted dangerous driving, driving while disqualified, and possession of heroin and cannabis.
'Fleeing criminals'
Describing their criminal records as "dreadful", Judge Phillip Wassal told the men: "You did not come to the south west to commit crime but you found yourselves short of money and turned to it, as you have both done many times before in the past."
The court was told the pair stole a car in Exmouth, Devon before travelling to Cornwall where they raided the Bedruthan Steps Hotel, the Trevose Golf Club and a farm near Padstow.
The men were finally arrested when they got lost in Barnstaple, north Devon, and drove on to a pedestrianised area in the middle of the town.
Prosecutor Miss Janice Eagles said when police tried to stop the car, Pitt sped off, passing through red lights and on the wrong side of the road past the police station before crashing into an "innocent driver" and injuring her.
Mr Lee Bremridge, for Pitt, said his client had left Birmingham to escape family problems and search for his long-lost father in Cornwall.
Pitt had no intention to steal, but ran out of money and yielded to temptation, Mr Bremridge added.
Mr Richard Crabb, for Gregory, said he was "fleeing" Birmingham to escape criminals who were threatening him.
On his release, Mr Crabb said Gregory hoped to move to Devon and re-establish contact with his five-year-old daughter, who lived in Plymouth with his ex partner.