Devon County Show 'worth £10m' to economy
16 May 2013

From the section

Devon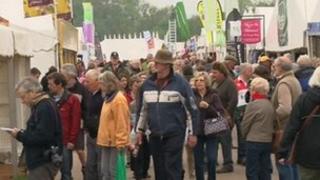 An annual agricultural show is worth up to £10m to the county's economy, an expert has estimated.
The Devon County Show, near Exeter, is expecting about 95,000 visitors over three days.
The value, estimated by economist Kevin Butler, includes the amount visitors spend, ticket sales and company deals.
Show secretary Ollie Allen said she believed the figure could be about £8m, although it was difficult to make an accurate estimate.
Cornettos to combines
Mr Butler, who was a former south-west of England adviser to the Bank of England, estimated about £6m was spent by people at the show and ticket sales generated about £1m.
He added money generated from people who stayed in the area, advertising costs and the publicity the show brought to industries helped to create the amount.
The estimate of £10m is believed to be the first economic value put on the event.
Mr Butler said: "People are buying things from Cornettos to combine harvesters and that involves a lot of sales revenue.
"It [the show] brings in people from all walks of life.
"City products and services are sold as well... accountants, solicitors and banks all have an interest in doing business at these important shows."
About 700 trade exhibitors are expected at the 117th show which runs from 16 to 18 May.