New station for Exeter's Newcourt development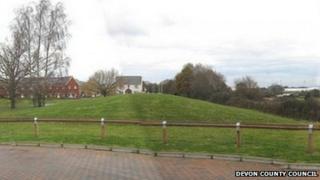 A £1.5m train station serving Exeter is to be built as part of the government's New Station Fund.
Newcourt station will be on the Exmouth branch line between Digby, Sowton and Topsham.
It is expected to open before the end of 2014 with trains running every half an hour.
Newcourt is one of four new stations to be announced around the UK, the others are in London, Newport and Derbyshire.
Newcourt, near to Exeter's Sandy Park rugby ground, is one of the areas on the edge of the city which has been earmarked for major expansion.
Rail investment
Devon County Councillor Andrew Leadbetter said the funding was "excellent news" for its plans to improve the local rail network and the frequency of services.
"There will be around 3,500 new homes in the Newcourt area so transport links will be vital in this part of the city in order to reduce traffic on the roads," he said.
The new station was a "key element" of the council's public transport strategy, known as the Devon Metro concept.
There is a big house building programme taking place in the Newcourt area and the population is expected to increase by 7,000 people by 2026.
New stations are also planned for Cranbrook, the new town being built to the east of Exeter and Marsh Barton, which has a large industrial estate.
Visiting Devon earlier, Transport Secretary, Patrick McLoughlin, said: "Funding this new [Newcourt] station illustrates our commitment to working with community and national partners to meet local transport needs."
The Department for Transport is expected to fund around half the cost of the project.
Ilkeston in Derbyshire, will also receive £4.5m of government funding; Lea Bridge in the London Borough of Waltham Forest has been awarded £1m and Pye Corner in Newport, Wales, will receive over £2.5m.