Derriford Hospital's £3m stem cell isolation unit praised
13 May 2013

From the section

Devon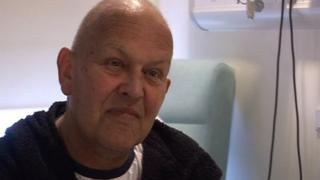 Patients have praised a stem cell isolation unit which has opened at Derriford Hospital in Plymouth.
People from Devon and Cornwall who need protective isolation after a stem cell transplant now no longer have to travel to Bristol or London.
The unit is for leukaemia or lymphoma adult patients whose immune systems have been depleted by chemotherapy.
Paul Bates, a patient from Torpoint in Cornwall, described the new unit as "palatial".
After a transplant patients will spend from three to six weeks in the £2.7m state-of-the-art unit.
Stem cells are sometimes given to cancer patients to replace the red and white cells and platelets in blood which chemotherapy treatment has killed off.
Bigger and cleaner
Previously, the hospital was only able to carry out transplants if the stem cells were harvested directly from the patient or a relative, but can now also treat patients who need non-related donor stem cells.
The haematopoietic stem cell transplant unit, with 10 single en-suite rooms, has been built in the hospital's former Bracken ward.
"The facilities are so much better than the ones we had before," consultant haematologist Dr Hannah Hunter told BBC News.
"We have more rooms and bigger facilities so we can now offer unrelated donor stem cell transplants to patients from Devon and Cornwall who have previously had to travel as far as London for this service."
Dr Hunter said the en-suite wet rooms were better for cleanliness and therefore better for infection control.
Each room also has a flatscreen television with multiple channels and radio stations.
Easier for families
The unit, which patients helped to design, also has a common room and a room for relatives to stay overnight.
Mr Bates who underwent a stem cell transplant on Thursday said: "It's great, it's comfy, I've got my own en-suite and the staff are great.
"I can't grumble at all really - considering I'll have to be in here and I'm not allowed out for three or four weeks, it's really nice."
Mr Bates said not having to travel hundreds of miles for his treatment was not just better for him, but made visiting for his family easier.
"Having only to come across the water (River Tamar) from Torpoint is very handy for my wife," he said.