Kennford cottage pink paint dubbed illegal
2 May 2013

From the section

Devon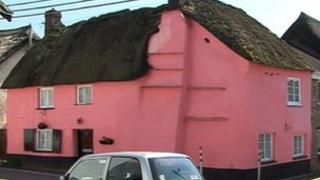 A couple who re-painted their 17th Century Devon house a vivid shade of pink have been told the touch-up was illegal.
Teignbridge District Council said any alterations made to a listed building must have "listed building consent".
Owner Ann Kennedy said the cottage in Kennford has "always been this shade of pink".
Ms Kennedy said: "We haven't changed the colour, we've just restored the colour to what it was."
She said the original colour had "faded in time, since it was painted 13 years ago".
"I did send the council proof of the colour that it was when we bought the house, but it's like talking to a brick wall. They have taken absolutely no notice of that."
The district council said that before any alterations are made to a listed building likely to affect its character or appearance, listed building consent must be obtained.
Ms Kennedy has now applied retrospectively and the council will make its decision next month.