Affordable housing plan for Ilfracombe's empty shops
8 April 2013

From the section

Devon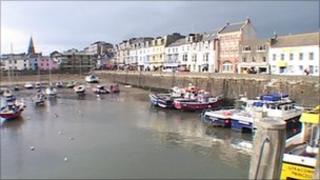 Empty shops and offices in a North Devon seaside town could be converted into affordable housing if a bid for government funding is successful.
North Devon District Council (NDDC) has applied for £250,000 from the Homes and Communities Agency for Ilfracombe.
The converted properties would be used as social housing.
There are currently 233 households in the town on the waiting list for a one bedroom property and 108 waiting for two bedrooms.
Ian Higgins, the council's private sector housing manager, said there were at least 12 empty properties in Ilfracombe High Street and "at least five or six" property owners "positively keen" to take part.
He said: "Not all the empty accommodation is going to be suitable.
"Also you don't want to reduce the number of commercial units, otherwise you kill a town rather than regenerate it."
He said his team was initially looking at using empty office space above shops.
The funding bid has been submitted alongside the local housing provider, North Devon Homes.
The initiative is part of the government's drive to make use of empty homes across the UK.
If successful the money will be spent bringing the properties up to a "decent standard".
The council will then lease them from the owners for at least five years and rent them out to people on the housing waiting list.
Mr Higgins said: "The town centre has been depressed for many years because of the decline in tourism and because it is a seasonal economy and a low wage economy.
"But there is a lot of appetite at the moment for regeneration."
Mr Higgins said he hoped to hear the outcome of the funding bid by the end of April or May.