Joss Stone murder plot jury considers verdict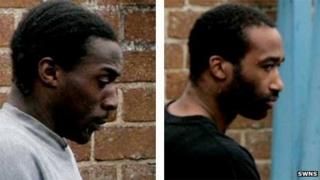 A jury is considering its verdict in the case of two men accused of plotting to rob and murder singer Joss Stone.
Junior Bradshaw, 32, and Kevin Liverpool, 35, both of Longsight, Manchester, deny conspiracy to murder, rob and cause grievous bodily harm.
Exeter Crown Court was told the men travelled to the Devon home of the 25-year-old singer in June 2011 armed with a Samurai sword.
The judge asked the jury for unanimous verdicts on each of the counts.
The prosecution said notes written by Mr Liverpool which were found by Devon and Cornwall Police, showed the accused wanted to behead Ms Stone and dump her body in the river because of her links to the Royal Family.
'Frightening fantasy'
Mr Bradshaw told the jury he had never heard of Joss Stone until his arrest and he thought he was on a day out with his friend.
Likening Mr Bradshaw to "a goldfish in a bowl", consultant psychiatrist Dr Michael Alcock said he suffered from disorganised schizophrenia and had such a poor concept of time that he thought the alleged murder plot happened only two or three months ago
Mr Liverpool has not given evidence. His barrister, Philip King QC, used his closing speech to say the plot to kill the singer was a "a bungled fantasy" that was never going to be carried out.
"The simple truth is that you have one, maybe two people who are incapable, bizarre, deluded incompetents... they were doing nothing other than living out a frightening fantasy," he told jurors.
Mr King said his client was not dangerous, but "a deluded inadequate" who need help.