Dilemma facing Devon's historic churches
15 May 2013

From the section

Devon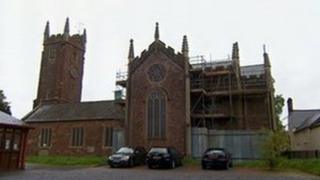 The church of St Thomas the Apostle has stood in the Exeter suburb which bears its name for hundreds of years.
But like many historic churches it is in need of repair, and finding the money to pay for it will not be easy.
A feasibility study into the future of the St Thomas building, dating from 1657, has found that restoration work is likely to cost at least £1.5m.
It said that raising such a large sum of money was likely to be "extremely difficult".
A public meeting to discuss the situation at St Thomas's and two nearby sister churches is due to be held later.
But the church congregation has already made it clear that it wants to concentrate on "working in the wider community" rather than putting its "limited resources into the upkeep of the buildings".
The Reverend Nick Edwards said: "We are deeply aware of the significance of St Thomas, a church which has given its name to a community and which has played an important role in the lives of families for generations.
"But as Christians we are called to serve our neighbours and not work only to repair buildings."
He said the church was in a "poor" state of repair and in an "ideal world" it would be restored to its former glory.
"We're looking at every option under the sun, it's not just about us, it's about the community," he added.
"We want to be imaginative and creative."
Mr Edwards said this was "just the beginning" of the process to discuss the future of the church.
If the building is sold it could become a library, as one church in Plymouth has, or be converted into housing.
There are 617 church buildings in the Diocese of Exeter, which covers most of Devon, 545 of them listed.
Ten church buildings have closed in the diocese since 2003 and a further six are currently going through the closure process.
These come amid a backdrop of falling numbers of people attending Anglican churches nationally, although in Devon there has been a "gentle growth" in numbers to 27,100 in 2011, the latest figures available.
But alongside the closures, a number of churches have found innovative ways to generate income and encourage local people to use their buildings.
'Sharing faith'
Saint Paul's Church in Yelverton used a £30,000 legacy to install a cinema screen in its church hall three years ago.
Brian Medhurst, church treasurer, said the community cinema was "becoming a feature of village life".
He said: "We try to do something for everybody and this generates income.
"It's sociable and we do it cafe-style, which makes it more of a party atmosphere."
In North Devon a £12,000 climbing wall was installed inside the 19th Century bell tower of Holy Trinity Church, Barnstaple, two years ago.
The 25ft (82ft) high wall is used by local community groups.
The Vicar, The Reverend Simon May, said: "It's not about generating income, it's about connecting with the local community so we can share our faith.
"The wall is going well. it is an interesting thing, it appeals to active people."
Other Devon churches have given over part of their church buildings to be post offices, coffee shops and spaces for schools to use.
The Archdeacon of Exeter, Christopher Futcher, said a lot of churches were originally built as "big and beautiful as possible" to the "glory of God".
He said: "In many places there is a very small group of people trying to maintain a building at modern costs and for some that isn't sustainable."
He said it was "marvellous" the way some churches were being creative about the way their buildings are used.
"Hundreds of years ago churches were divided into the chancel (where the altar is) and the nave.
"Before fixed pews became fashionable the nave was often used for all kinds of activities.
"In some ways this is giving us the chance to recover that, with the naves once more being used for community purposes.
"It gives us the opportunity to re-establish the church at the heart of the community."