Devon councils face £800m potholes bill
3 April 2013

From the section

Devon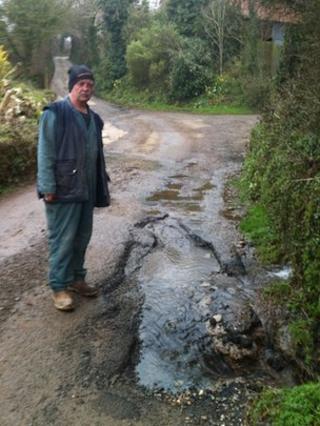 Councils across Devon claim it will cost nearly £800m to repair roads damaged by freezing weather and flooding over the winter.
Landslips and flooding damage to roads and bridges has cost the county council more than £12m alone since January.
One farmer from Totnes claims he is losing money because of cracked eggs in delivery trucks crossing potholes.
Authorities across Devon said they were working hard to repair the network they look after.
Farmer 'disgusted'
John Foster, who runs a free-range egg farm at Moreleigh near Totnes, said he had been waiting for 15 potholes to be fixed on the road to his farm.
He said: "If they're cracking eggs on the lorry I'm losing money.
"There's about 15 potholes which sometimes are three or four inches deep. Highways haven't been here to do any repairs and I am disgusted."
Devon County Council, which faces a bill of £687m for road repairs, said Mr Foster's road is "on the current works schedule and should be repaired imminently".
Torbay Council said it had a backlog of £30m in roads repairs, while Plymouth City Council said it would cost between £70m and £80m to correct problems around the city.
A few miles down the road from Mr Foster's farm the bank has been collapsing on the main road between Avonwick and Totnes.
Drivers have had to wait at two sets of temporary traffic lights while investigation work has been carried out.
Richard Cooper, who runs the village shop in Avonwick, said: "Passing trade is getting less and less because of the traffic lights there, people are using alternative routes."
The county council said its highways teams had "already repaired more than 26,000 potholes so far this year".
A spokesman for the Department of Transport said: "We are providing councils with more than £3bn between 2011 and 2015 to maintain their roads and pavements.
"In December 2012 we announced an extra £215m to help councils. This is on top of the additional £200m we gave in March 2011 to repair local roads damaged by the severe winter weather."