St Boniface's Catholic College head teacher suspended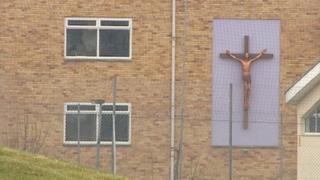 The head teacher of a Catholic school in Plymouth has been suspended.
St Boniface's Catholic College wrote to parents last week following a complaint about Peter Eccles's private life.
The school's chair of governors, Stephen Hole, said deputy Andrew Davies had been appointed as acting head while an investigation was carried out.
Mr Eccles said his marital circumstances had changed, but would not comment further.
"I feel the media interest in this story is disproportionate.....there has been huge interest and scrutiny in my private life since a change in my marital circumstances," he told BBC News.
The nature of the complaint made against Mr Eccles has not been specified, but is said not to relate to pupils.
In the letter to parents and pupils, Mr Hole said he had "reluctantly" suspended Mr Eccles.
'Need to listen'
"I have recently been made aware of a written complaint relating to Mr Eccles's private life," it said.
"In most situations, this would remain a personal and private matter. In a faith school, where staff are expected to uphold the teachings of the Roman Catholic faith, we have a duty to investigate whether standards have been breached."
Mr Hole said the head teacher had "steered the college with great commitment" while dealing with "some difficult circumstances" regarding finance and staffing at the school and also dealing with a "major upheaval in his family life".
"He has done this with professionalism, integrity and fairness," the letter said.
Two years ago, the bursar of the school, Peter Gorman, was arrested and later charged with fraud and intending to cause loss to the college and Plymouth City Council.
He was suspended indefinitely and will stand trial at Plymouth Crown later this year. He has denied the charges.
An Ofsted spokesperson said it would not be appropriate to comment while an investigation was taking place.
But Plymouth Moor View MP, Alison Seabeck, said there were issues at the school which had to be addressed.
"Things are clearly coming to a head and the city council and the diocese need to listen to what the young people are saying to them as it's their education that's important," she added.
No-one from the city council or the Diocese of Plymouth was available to comment.
St Boniface's Catholic College was founded by the Bishop of Plymouth in 1856 as an independent boarding and day school for "young Catholic gentlemen".