Bishop of Exeter says stay-at-home parents are 'penalised'
28 March 2013

From the section

Devon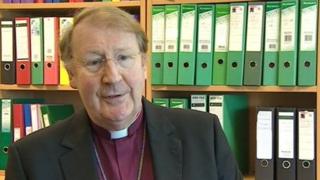 Stay-at-home parents who choose to look after their children instead of going to work are being "unfairly" penalised, the Bishop of Exeter has said.
The Right Reverend Michael Langrish said the government had failed to recognise their role "at the heart of society".
He also condemned the suggestion parents were "freeloading on the state" if one of them chooses to stay at home.
The government was considering its response.
"There's a great deal of rhetoric from the government about the importance of supporting family life," Bishop Michael told BBC News.
"We were told by the prime minister this would be the most family-friendly government ever, yet the government's own policy constantly discriminates against those who wish to put effort into the nurture and parenting of their children."
'No choice'
He also said many single-earning couples had "no choice" but to stay at home to care for a disabled child or an elderly dependent relative.
Referring to a speech he made in January during a debate about the impact of tax and benefit changes, Bishop Michael said it was couples with single-earning parents who were being penalised.
"If you're a one-earning couple with two children with an income of £60,000, you'll be paying income tax of nearly £14,000, but if you're actually a two-earner couple - each earning £30,000 - you'll only pay just under £9,000," he said.
"In addition to that the one-earner family loses all its child benefit, yet the two-earner family can go on drawing benefit up to £120,000 - it's absolutely crazy."
Bishop Michael, 66, who has served as Bishop of Exeter since 2000, is to retire at the end of June.